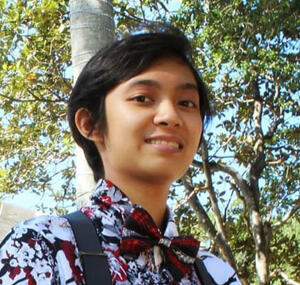 Rio Salazar
Ryo Wulf Audio
---
Audio Engineer. Sound Designer. Producer. Musician.
---
From unwavering music passion came unyielding entrepreneurial spirit, and thus Ryo Wulf Audio was born. Rio Salazar is a seasoned musician with over two decades of musical experience paired with a love for all things technological. With an ear for quality, Rio knows how to blend the creative and the technical into a phenomenal product service that is tailored to your project's needs.
---
Rio Salazar is the essence behind the Ryo Wulf eponym.
Having been exposed to music since a young age, Rio has a unique arsenal of musicality, creativity, and passion. Rio knows no bounds, having traveled the spectrum of music genres. From the highlands of free-spirited pop punk to the crevices of experimental noise, they are always in search of their next venture. Combined with a love for computers and technology, it was only a matter of time before those two passions would merge into something even greater. Taking the plunge, Rio stretched the capabilities of audio and music technology, becoming involved in podcasts, sound design, and post-production. On the off-chance you find Rio not immersed in their work, it's likely you'll catch them with a cup of tea as while reading or playing video games. The search for knowledge is never ending, but one thing is for sure: Rio's uncanny approach to life, music, and technology makes them one of the universe's hidden treasures.
---
Rio Salazar graduated from Florida Atlantic University with a Bachelor of Music in Commercial Music - Music Technology. There, Rio has received invaluable instruction in recording technology, live sound reinforcement, music and audio production, composition, music business, artist development, and instrumental performance. During their time at FAU, Rio has worked as an Audio Engineer and Executive Producer for the two-time Latin Grammy-nominated record label Hoot/Wisdom Recordings. They have worked as a live sound engineer in various venues in and around the South Florida area and was the previous drummer for the band Monty. Rio has since continued working in various audiovisual projects both in the commercial and residential fronts.
---
Influences
---
GENRES
Rock, Progressive, Indie, Pop Punk, Alternative, Jazz
ARTISTS
Alesana, Polkadot Stingray, Paramore, DOLL$BOXX, Lie and a Chameleon, Band-Maid, The Used, Mayday Parade, Silverstein, Godspeed! You Black Emperor, Wintersun, Týr, Periphery, Covet, Their Dogs Were Astronauts
---
From music to podcasts to audiovisual media, Rio is your one-stop shop to any of your audio production needs. If you have an inquiry or would like to work with me on a project, feel free to email me: [email protected]
Music — Composition | Transcription | Production | Recording | Mixing | Mastering

Multimedia/Audiovisual — Foley | Sound Design | Editing | Mixing

Live Sound Reinforcement

Private Lessons/Mentorship — Drums/Percussion | Piano | Bass Guitar | Music Theory | Music Production | Audio Engineering
Frequently Asked Questions
---
What can I use composition commissions for?
Some examples are video intros, BGM/SFX for games and/or podcasts, music themes for your OCs/TTRPG characters, splash music for your website... the possibilities are endless!
What genre(s) of music will you make?
Depends on what you're looking for: Orchestral, Folk, Rock Band, Jazz Combo or Big Band, Electronic, Ambience, etc. You can tell me what kind of arrangement you want and I will do my best to accommodate. I reserve the right to refuse a commission for any reason, may that be that I don't feel comfortable enough with a genre to take the project on or otherwise.
All of the music will be instrumental.(no lyrical vocals, though vocal pads and maybe choir VSTs might be an option to be discussed)
How is payment handled and why don't you have public rates?
There are too many variables associated withe the nature of commission that someone could ask for that having a public pricing chart—even for reference—the equations for determining a price quote would be intimidating at best. If you would like a rough idea of how that would be calculated, consider that I may account for a flat fee based on the type of project (i.e. compositions will be higher than podcast edits) plus variable rates such as hourly labor, length of the final product, complexity of work, multiple production stages, etc. Don't worry, this will be discussed thoroughly when going over the project scope for the commission.
Once we have agreed upon the pricing and payment schedule of your commission, I will send an invoice via PayPal.
How long does it take you to complete a commission?
It depends on the length and complexity of the commission. Clear-cut technical projects such as audio edits will take much less time than creative projects such as music compositions. Again, this will be discussed when going over the project scope and a timeline with physical milestones will be established.
But... I have more questions!
Great! The more communication, the better! I want to be as transparent and accommodating as possible! If you wish to create a dialogue with me, please don't hesitate to contact me:

[email protected]
Portfolio
---
---
Podcasts
---
---
Music
---
---
Post-Production
---